Wednesday, September 14, 2022
Announcements from the WI DPI School Nutrition Team (SNT)
Additional Information from USDA Regarding Religious Educational Institutions: "And Justice for All" Posters and Nondiscrimination Statements
Religious educational institutions must continue using the 2022 version of the USDA nondiscrimination statement (NDS) on applicable documents and materials and display the 2022 version of the And Justice For All (AJFA) poster in accordance with Agency requirements. However, educational institutions that claim a Title IX religious exemption or seek USDA assurance of religious exemption from Title IX provisions may continue using the 2015 version of the USDA NDS and the 2019 version of the AJFA poster.
2019 Version of the "And Justice for All" Posters
The 2019 version of the AJFA poster (AD-475A) is located on the Office of the Assistant Secretary for Civil Rights website at: https://www.usda.gov/sites/default/files/documents/JFAgreen508.pdf. All And Justice for All posters must be printed at 11" width x 17" height per Departmental Regulation 4300-003. The minimum text size to be used on the posters is 14-point.
Please see below for a copy of the 2015 version of the NDS if needed. Additionally, USDA and State agencies will continue monitoring proper use of the NDS and the appropriate AJFA poster in program management evaluations, civil rights reviews, and administrative reviews. Please note that if program complaints of discrimination or any other compliance-related issues arise against these educational institutions they will have to demonstrate how using the 2022 version of the NDS and AJFA poster is against their religious tenet(s).
2015 Version USDA Nondiscrimination Statement
In accordance with Federal civil rights law and U.S. Department of Agriculture (USDA) civil rights regulations and policies, the USDA, its Agencies, offices, and employees, and institutions participating in or administering USDA programs are prohibited from discriminating based on race, color, national origin, sex, disability, age, or reprisal or retaliation for prior civil rights activity in any program or activity conducted or funded by USDA.
Persons with disabilities who require alternative means of communication for program information (e.g. Braille, large print, audiotape, American Sign Language, etc.), should contact the Agency (State or local) where they applied for benefits. Individuals who are deaf, hard of hearing or have speech disabilities may contact USDA through the Federal Relay Service at (800) 877-8339. Additionally, program information may be made available in languages other than English.
To file a program complaint of discrimination, complete the USDA Program Discrimination Complaint Form, (AD-3027) found online at: http://www.ascr.usda.gov/complaint_filing_cust.html, and at any USDA office, or write a letter addressed to USDA and provide in the letter all of the information requested in the form. To request a copy of the complaint form, call (866) 632-9992. Submit your completed form or letter to USDA by:
(1)   mail: U.S. Department of Agriculture
Office of the Assistant Secretary for Civil Rights
1400 Independence Avenue, SW
Washington, D.C. 20250-9410;
(2)   fax: (202) 690-7442; or
(3)   email: program.intake@usda.gov.
This institution is an equal opportunity provider.
Four Ways to Nourish More Children Through School Meals
Over the last two years, we've experienced major disruptions in the world of school meals – new realities stemming from pandemic-related school closures and supply chain disruptions which have impacted the cost and availability of food, staff, and supplies. Through it all, our dedicated school nutrition professionals have demonstrated a tireless commitment to ensuring kids remain fed and nourished.
USDA is offering school nutrition programs all the Support we can for the coming school year but does not have the authority to offer all options from recent years, including free school meals for all children. So, USDA Secretary Tom Vilsack reached out to every state governor, urging them in a Letter to do everything in their power to ensure children still have access to critical nutrition through school meals, such as:
Using state and local resources to supplement school meals. USDA provides federal reimbursements for meals served to kids, but states and local communities can also supplement those efforts. To date, at least five states – Vermont, Maine, Massachusetts, California, and Nevada – are drawing from their own funds to make universal free school meals possible. We encourage states to stretch their budgets creatively to enhance food service for children in their care.
Supporting the school foodservice workforce. Nearly 75% of school districts reported staffing challenges in December 2021. To overcome this obstacle, USDA recommends states and districts increase training and compensation for the dedicated staff who serve as the backbone of the school meal programs.
Maximizing Community Eligibility Provision (CEP) and Direct Certification. CEP enables schools in high-poverty areas to serve meals at no cost to all students. States can encourage eligible districts to participate and can request extensions to apply through September 30, 2022, if needed. USDA is also accepting applications for new states to participate in the Direct Certification with Medicaid Demonstration Project. Both methods automatically provide free meals to students without their household completing an application.
Leveraging other federal funds. Elementary and Secondary School Emergency Relief (ESSER) and Coronavirus State and Local Fiscal Recovery Funds (SLFRF) may offer the boost some states need to enhance their school meals programs.
Throughout our nation, school nutrition and education professionals have not wavered in their mission to keep kids fed, strong, and healthy. USDA is here every step of the way to support these champions who ensure children are empowered for bright futures ahead.
USDA Back-to-School Toolkit
As the 2022-23 school year arrives, it's the perfect time to think about how to enhance school meals and ways to increase scratch cooking capacity in your kitchen. States around the country are using Team Nutrition Training Grant funds to create tools to help you through this process.
Your Roadmap for the Journey to School Meal Success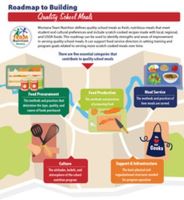 The Montana Office of Public Instruction has developed a Roadmap to Building Quality School Meals with Fiscal Year 2019 Team Nutrition Training Grant funds. Designed to help school nutrition professionals increase scratch cooking over time, The Roadmap includes resources for food procurement, food production, meal service, culture, support and infrastructure, and goal setting. More than 50 school nutrition managers in Montana are using The Roadmap to improve the quality of school meals.
Culinary Cleverness: New Online Training Course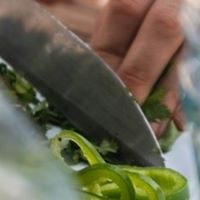 The Wisconsin Department of Public Instruction used Fiscal Year 2019 Team Nutrition Training Grant funds to develop the Let's Cook! Culinary Training Series. Designed to enhance culinary skills for the preparation of scratch-made, healthy, and student-approved meals, the eight on-demand modules allow school nutrition professionals to complete the trainings remotely at their own pace and apply the skills they learn in their own kitchens. To date, each module has been completed by at least 140 school nutrition professionals.
Engaging Students in the Recipe Development Process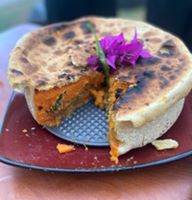 Engaging students can be a recipe for school meals success! With the support of Fiscal Year 2021 Team Nutrition Training Grant funding, the Hawaii State Department of Education held a recipe contest to identify recipes utilizing local agricultural products such as Okinawan sweet potatoes and kabocha squash. The recipes were adapted to be produced in school kitchens and will be standardized for inclusion in future school lunches. Learn more about how other States are developing new recipes for school meals on the Team Nutrition website.
USDA's school meal programs are important to millions of children every school day. These meals give children the healthy food they need to learn, grow, and thrive. For the 2022-23 school year, many families will need to fill out an application to find out if they can get free or reduced price meals. To learn more about applying for benefits, please visit the Applying for Free and Reduced Price Meals webpage.
---
Menu Planning Workshop - Registration Open!
Join us for a hands-on workshop to learn how to incorporate local foods (purchased or from your school garden) into your school meal programs!
When: Thursday, October 6, 2022
Where: Nourish Farms, Sheboygan Falls
Time: 10 am - 2 pm, optional school garden tour and talk from 2-3:30 pm
Cost: FREE, a delicious lunch will be provided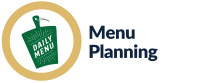 Gain the tools and resources to easily swap local items into your menus and to respond to surprise donations of fresh produce brought to your door. We will work with harvest schedules, Harvest of the Month items, and find flexibility in your menu planning for each season. Also included will be how to interpret information from a farmer (i.e., in what quantities products are sold and how that translates to what you need to purchase), food safety considerations for purchasing local, and how to credit these foods towards the meal pattern requirements. This workshop is action-oriented and will involve working in the garden and the commercial kitchen. Workshop content is most applicable to menu planners and buyers, but everyone is welcome. Come out and enjoy a beautiful fall day, exploring and learning together at Nourish Farms!
Register Here. Advanced registration is required.
---
Sign up to learn about the latest news and resources from the U.S. Department of Agriculture (USDA) on preventing food loss and waste.
Last Call to Register for the Second USDA Food Loss and Waste Innovation Fair – Wednesday, September 14
On September 14, 2022 from 9 AM - 1 PM CST, USDA will host the Second USDA virtual Food Loss and Waste Innovation Fair. This free, virtual fair will highlight businesses that are creating or implementing state-of-the-art technical solutions to reduce food loss and waste throughout the food system – from farm to table – and highlight USDA activities in this space. This year's fair will include over three dozen exhibitors, presentations, and a networking lounge.
The booth holders are U.S. Food Loss and Waste 2030 Champions; USDA agencies sharing their work on food loss and waste (in areas such as research, funding, measurement, outreach); or USDA-funded organizations that are developing or marketing food loss and waste reducing technologies. Presentations will feature government and industry food loss and waste experts and will provide information on funding opportunities.
The USDA Food Loss and Waste Innovation Fair is perfect for businesses, nonprofits, researchers, state and local officials, food loss and waste novices and enthusiasts. This event is free and open to all. Register Here.
Upcoming Virtual Roundtables on Global Food Loss and Waste Reduction Efforts
On Wednesday, October 19, 2022, 9 - 10:30 AM CST, USDA hosts the virtual roundtable Food Loss and Waste Activities from Around the World. Speakers from Denmark, South Korea, Rwanda, and the U.S. will share their efforts with national and municipal level governments to reduce food waste and increase food recycling. Register Today.
On Wednesday, November 2, 2022, 10 – 11:30 AM CST. USDA and the Food and Agriculture Organization of the United Nations' North America Liaison Office will co-host Food Loss and Waste Successes from the U.S. and Canada. At this virtual roundtable, speakers will share their experiences of increasing sustainable food management in Baltimore, Orlando, Vancouver, British Columbia, and Guelph, Ontario. Register Today.
New Resource from Asia-Pacific Economic Cooperation (APEC)
In June 2022, the APEC Agricultural Technical Cooperation Working Group released a new resource for member economies on reducing food waste and enhancing resource efficiency in the food chain. The Sustainable Materials Management of Food in the APEC Region: A Review of Public Policies That Support Reducing Food Loss and Waste provides resources governments can use to promote reduction of food loss and waste as well as best practices for development of policy and implementation in this area. Read the Guide.
Model Policy on Food Waste Reporting for Local Municipalities
Last July, the Natural Resources Defense Council (NRDC) and Environmental Law Institute (ELI) released a Model Ordinance that can help local officials in their efforts to reduce food waste. Many municipalities do not have reliable data on the amount of food wasted. This model policy could be adapted by municipalities to require businesses, universities and other large organizations to report the amount of wasted food they generate. This model ordinance is part of a series of model policies developed by the NRDC and ELI. Visit the NRDC webpage for more information.
Launch of the Updated Food Loss and Waste Value Chain Selection Guide
USDA's Foreign Agricultural Service will host a webinar on September 22, 2022, at 9 AM CST, on the virtual launch of the Updated Food Loss and Waste Value Chain Selection Guide. The guide offers guidance on how to integrate food loss and waste reduction into agricultural value chain management. The webinar will feature Agribusiness Associates Inc. (ABA) sharing their experience piloting the guide for two weeks with the Fresh Produce Consortium of Kenya and the Costa Rican Government's Ministry of Agriculture and Livestock Caribbean Region. Register Today.
International Day of Awareness of Food Loss and Waste
September 29, 2022 will mark the third observance of International Day of Awareness of Food Loss and Waste (IDAFLW). The IDAFLW, organized by the Food and Agriculture Organization of the United Nations, is a call to action for public and private entities from across the food system to work together to cut food loss and waste. Join the virtual observance of IDAFLW on September 29 at 2 PM CST to learn how to take action. Register Today.
Funding Opportunity: USDA Invests $4.8 Million in Community Food Projects
USDA's National Institute of Food and Agriculture recently announced funding for FY 2023 Community Food Projects Competitive Grants Program. These grants supports work across the food system to increase the self-reliance of communities in providing for their food needs; and promotes comprehensive responses to local food access, farm and nutrition issues, including strategies to reduce food waste and other agricultural needs that mutually benefit agricultural producers and consumers. Public food program service providers, tribal organizations, or private nonprofit entities, including gleaners are eligible. The closing date is Friday, October 7, 2022. For eligibility information and to apply visit Community Food Projects Competitive Grants Program.
----------------------------------------------------------
Wisconsin Department of Public Instruction
Jill K. Underly, PhD, State Superintendent
125 S Webster Street
Madison, WI 53703
(608) 266-3390 • (800) 441-4563