Thursday, September 22, 2022
Announcements from the WI DPI School Nutrition Team (SNT)
---
A Produce Safety University webinar will be held on September 22 from 2 to 3:00 PM CST. The webinar provides a continuing education opportunity and will feature three presenters who will highlight strategies and resources that school nutrition professionals can use to train others on produce safety.
Join the webinar to learn more about:
• Resources that can be used to train others on produce safety.
• Key strategies to train adult learners on produce safety.
• Application of PSU concepts and materials to develop training strategy.
Participants may submit questions about produce safety in school nutrition programs to ProduceSafetyUniversity@usda.gov in advance.
Date: Tuesday, October 4, 2022
Time: 1 pm – 2:00 pm CST
Title: Become a PSTTT Pro: A Review of the Professional Standards Training Tracker Tool (PSTTT)
On October 4th, USDA's Team Nutrition will present the webinar, "Become a PSTTT Pro: A Review of the Professional Standards Training Tracker Tool (PSTTT)." Whether you are a first-time user or have been using the PSTTT for a while, this webinar is for you! We will review the basic features of the PSTTT including how to manage your employee profiles, log training, and print certificates. Additionally, we will highlight some of the latest updates to the PSTTT such as deactivating and reactivating employee profiles, bulk upload of trainings and employee profiles, and the new job title categories.
Do you need an alternative format or accessibility tools to help you participate in this event? The USDA Child Nutrition Programs would like to share that this webinar will be offered with closed captioning. Participants who require a different accessibility tool to participate in this webinar, please reach out by Friday, September 23, to Sheila Kopczynski, FNS-RAC, our event accessibility point of contact for assistance at sheila.kopczynski@usda.gov or (208) 202-2811.
After registering, you will receive a confirmation email containing information on how to join the webinar. Please contact cnpntab@usda.gov with questions or if you have trouble logging in.
If you are unable to attend the LIVE webinar, there will be a recording of the webinar announced and posted a few weeks after the webinar's completion.
Happy Hispanic Heritage Month!
Did you know there are several MyPlate materials available in Spanish — the MyPlate Quiz, the MyPlate Plan, tip sheets and printable resources, graphics, and more than 1,000 recipes in the MyPlate Kitchen?
September 15 to October 15 marks the celebration of Hispanic Heritage Month, honoring the achievements and contributions of Hispanic Americans enriching our nation. Throughout the month, we will be highlighting MyPlate resources available in Spanish, sharing cultural food traditions from the USDA's Food and Nutrition Service (FNS) staff, and more!
Everyone can celebrate with MyPlate all month long, visit MiPlato en español (available in English and Spanish), fill your plate with nutritious Hispanic cuisine staples, or try a new delicious recipe on MyPlate Kitchen!
You can also follow us on Twitter and Facebook to stay up to date on what's happening. Follow along as we share our own culture experiences with real quotes from real people here at FNS.
For more resources available in English and Spanish, see this Bulletin from USDA's Food and Nutrition Service.
---
The DPI included several nutrition related budget items in the proposal sent to the Governor's office. Check out pages 118-132 for more information.
School Year (SY) 2021-22 Pandemic Electronic Transfer Benefits (P-EBT) Local Level Administrative Cost Grant (LLACG) Funds Have Been Processed
The SY 2021-22 P-EBT LLACG funds have been processed and will be deposited on Monday, September 26. These funds
Documentation of these funds will be available on the Aids Register on Friday, September 23, 2022.
This funding is currently posted under CFDA# 10.555 Food Service Aids National School Lunch, but is being updated to CFDA# 10.649 FY22 P-EBT Local Level Administrative Cost Grants, with WUFAR coding of Source 717 and Project 171. This refers only to the 9/26/2022 deposit described as "09/26, NSL Funds-Other."
To be eligible to receive funding, the expenses must be reasonable and allowable. Some examples of allowable expenses include: 
Reporting the five day threshold, eligible students, and eligible days to the P-EBT Portal;

 

Responding to parent requests and questions regarding P-EBT;

 

Collecting and processing USDA school meal applications specifically to establish eligibility for P-EBT; and

Conducting Direct Certification runs.
Examples of unallowable costs are those expenses that are: 
Not necessary or responsible for the administration of the FY 2021 P-EBT Program; and

Already reimbursed under another Federal award.
Reminder: Nutritious, Delicious, Wisconsin Week
The Wisconsin School Nutrition Team is hosting the first Nutritious, Delicious, Wisconsin Week this fall! Schools around the state will pledge to serve one of two featured Wisconsin dishes during the week of October 24-28.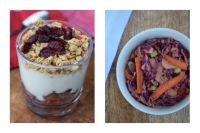 The featured dishes are a Wisconsin Parfait and a Taco Slaw. Schools who pledge will receive a set of six Harvest of the Month posters and window clings that can be used to promote Wisconsin foods.
Interested in participating? Please complete the Pledge Form! All pledges must be made by September 28.
NEW! Marketing Your Program Webpage
The School Nutrition Team is excited to announce the new Marketing Your Program Webpage! Marketing is one of the key factors to success in your school meals program. It refers to all the activities your SFA does to promote and sell products or services to your students. At the most basic level, the goal of marketing is to match your products and services to the customers you aim to serve. When this happens, both your SFA and students benefit. Use this page to find tools and resources to market your program and show how Wisconsin School Meals Rock!
Afterschool Snack Programs
Afterschool snacks are offered under the National School Lunch Program and the Child and Adult Care Food Program. To determine which program is best for your School Food Authority, check out the Comparison Chart.
Wisconsin Local Food for Schools (WI LFS) Program
Wisconsin received $3,447,772 from the USDA to purchase local unprocessed and minimally processed food to deal with the challenges of supply chain disruptions. The Wisconsin Department of Public Instruction (DPI) School Nutrition Team (SNT) will issue non-competitive sub-awards to school food authorities (SFAs) and non-SFAs, like farmer/producers, food hubs, aggregators, distributors, etc. The funds can be used to purchase domestic, local, unprocessed, or minimally processed foods for distribution to eligible SFAs participating in the National School Lunch(NSLP) or School Breakfast Programs (SBP). The program goal is to build a more resilient local food chain by expanding and strengthening local and regional markets. Purchases will target small business and/or socially disadvantaged farmers/producers.
If your SFA is interested in applying for this program, review the WI LFS Application Materials posted to the Local Procurement webpage. This is a voluntary opportunity. SFAs are not required (but are encouraged) to participate. For SFAs, DPI SNT provided a personalized application link to ARs and FSDs in a separate September 20, 2022 email. If you know of Non-SFAs that wish to participate, these organizations will be able to apply via the application link posted to the WI LFS webpage.
Applications are due by Tuesday October 18, 2022. DPI SNT reserves the right to accept applications beyond this date based on funds available.
Join us for a Live Microsoft Teams webinar on Thursday, September 29 from 2-3:00 PM. The event will announce the WI LFS program opportunity, leaving time for questions. After the webinar, weekly office hours will be held on Tuesdays from 2-2:30pm, using a separate online meeting link.
Questions regarding this funding opportunity can be directed to dpisntlfsprogram@dpi.wi.gov.
---
Date: Oct 6, 2022
Time: 2:00 PM CST
School meal programs serve many diverse communities with a variety of dietary needs and preferences. The school menu is a great place for students and families to see themselves reflected when meals relevant to their culture are included. Offering culturally inclusive menu items is also a way for students to learn more about their peers. This webinar (part one of a two-part series) will provide a roadmap for community outreach and engagement around religious and cultural foodways. Attendees will be able to describe at least three religious dietary practices relevant to school nutrition menu planning and identify two strategies for community outreach and engagement for the purpose of understanding cultural food needs that may influence school menus.
----------------------------------------------------------
Wisconsin Department of Public Instruction
Jill K. Underly, PhD, State Superintendent
125 S Webster Street
Madison, WI 53703
(608) 266-3390 • (800) 441-4563