Thursday, October 20, 2022
Announcements from the WI DPI School Nutrition Team (SNT)
---
An additional $50 million dollars in American Rescue Plan Act (ARPA) funding in addition to the $30 million provided by the Consolidated Appropriations Act, 2022, (Public Law 117-103). This ARPA funding is being made available to State agencies in addition to the previously announced $30 million to competitively award Equipment Assistance subgrants to eligible SFAs participating in the National School Lunch Program (NSLP).
USDA provides grant funds to states, which use a competitive application process to award them to school food authorities (SFAs) that participate in the NSLP. SFAs can use the funds to purchase upgraded equipment that will support:
Serving healthier meals, including those sourced from local foods;

Implementing scratch cooking;

Establishing or expanding school breakfast;

Storing fresh food;

Improving food safety.
Wisconsin was allocated an additional $695,633 for a total of $1,103,098. More information about this grant is forthcoming.
Now Available! Crediting Milk in the Child Nutrition Programs Tip Sheet!
This is the fourth tip sheet in a series of seven that includes the previously released Crediting Fruits, Crediting Vegetables, and Crediting Meats/Meat Alternates in Child Nutrition Programs. tip sheet is an easy-to-use reference for program operators in implementing the milk component requirements across all Child Nutrition Programs (CNP). Program operators can do a knowledge check of the meal component requirement with a question-and-answer section.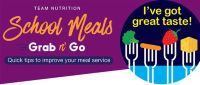 Taste tests are a great way for school nutrition professionals to introduce new menu items and get students excited to try healthy foods at school. The input collected from students can be used to improve recipes and create school meals that students want to eat. Use the tips below to help plan and host a successful taste-test event.
A Yummy Recipe or Food to Taste

A Prime Location

Student Engagement

Simple Ballots

A Food Safety Plan

After Taste-Test Action
Additional resources can be found on the Team Nutrition Taste Test Event webpage.
Celebrating the Flavors of School Meals
States are using Fiscal Year 2021 Team Nutrition Training Grants to develop new school meal recipes reflecting local foods and cultures. Check out some of the innovative methods states are using to engage students throughout the recipe development process. See the available standardized recipes developed by these grantees on the Institute of Child Nutrition's Child Nutrition Recipe Box.
Share your school meal program menus and recipes with us at TeamNutrition@USDA.gov. Your menus and recipes may be featured in future Team Nutrition publications and resources.
---
New! Special Dietary Needs Policy Template
The School Nutrition Team has created a Special Dietary Needs Example Policy that can be used at your school or district. If you already have a policy in place, we recommend comparing yours to this template to ensure your policy includes everything you need. Please note, this template should be thoroughly reviewed and modified to fit the needs of your school or district. All highlighted areas are meant to be filled in to reflect your school(s) or district. With any questions or concerns, please contact one of our special dietary needs specialists, Maggie Byrne (margaret.byrne@dpi.wi.gov) or Michelle Zvonar (michelle.zvonar@dpi.wi.gov).
The newly-refurbished Interactive Menu Planning Production Records are now available on the Production Records website. There are currently four options: one-entrée and two-entrée workbooks for both Breakfast and Lunch. These Excel workbooks generate Menu Planning Worksheets based on your weekly menu to help you track meal pattern compliance across multiple age/grade groups. Additionally, the workbooks will also generate printable copies of Production Records that meet all current Production Record requirements.
---



Virtual Instructor-Led Trainings (VILTs) for Individuals

The Institute of Child Nutrition (ICN) is offering Virtual Training Sessions during the fall/winter of 2022. There are topics available for school nutrition professionals and Child and Adult Food Care Program (CACFP) operators. Many topics are scheduled for new child nutrition directors, and the list also includes lessons from Introduction to School Nutrition Leadership (ISNL).
New CDC Resource Helps School Districts and Schools Survey Wellness Policies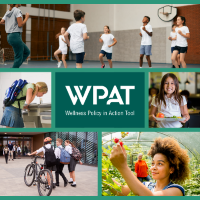 The Wellness Policy in Action Tool (WPAT) is a new resource designed to help schools meet USDA's triennial assessment requirements, including measuring how well schools are aligning their school nutrition and physical activity practices with their district's local school wellness policy. CDC Healthy Schools developed the WPAT in collaboration with the UCONN Rudd Center for Food Policy and Health.
----------------------------------------------------------
Wisconsin Department of Public Instruction
Jill K. Underly, PhD, State Superintendent
125 S Webster Street
Madison, WI 53703
(608) 266-3390 • (800) 441-4563