Wednesday, January 25, 2023
Announcements from the WI DPI School Nutrition Team (SNT)
---
Reminder! Request for Applications Due February 1, 2023: Cooperative Agreement for the Development and Implementation of Healthy Meals Incentives School Food System Transformation (SFST) Challenge Sub-Grants
Non-governmental entities are invited to submit applications to enter into a cooperative agreement with the USDA Food and Nutrition Service to develop and implement the Healthy Meals Incentives School Food System Transformation (SFST) Challenge Sub-Grants. Eligible entities include accredited colleges and universities, private or public non-profit or for-profit research institutions, and organizations with experience working with School Food Authorities (SFA) and/or the school food service industry to improve the nutritional quality of school meals through food system transformation.
Up to $50 million in funding will be awarded for up to four (4) cooperative agreements to non-governmental entities who will offer competitive SFST Challenge Sub-Grants to support collaborative projects partnering with non-governmental entities, SFAs, and the food industry.
The School Food System Transformation Challenge Sub-Grants are a key part of USDA FNS' Healthy Meals Incentives Initiative, which was established to improve the nutritional quality of school meals through food system transformation; SFA recognition and technical assistance; the generation and sharing of innovative ideas and tested practices; and grants.
Interested in applying? Completed applications must be submitted on Grants.gov by 11:59 p.m. ET on February 1, 2023.
View the Informational Webinar Recording
---
Around the World in 80 Trays - Success from Schools
Thank you to all schools that participated in DPI's annual Around the World in 80 Trays event, January 16-20, 2023. This event aims to increase international flavors in school meals to celebrate the diverse cultures and backgrounds of Wisconsin students. Check out these highlights from the event! If you have photos to share or feedback from the event, please send them to DPIFNS@dpi.wi.gov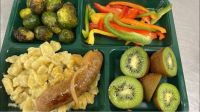 German Brat with Cheesy Spatzle (Germany), Plymouth Joint School District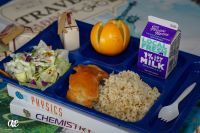 Arroz con Pollo (Cuba), Academy of Excellence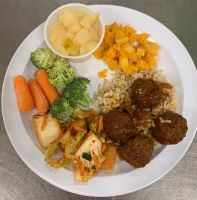 Korean Meatballs with Kimchi (Korea), School District of Fort Atkinson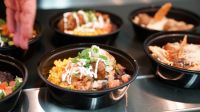 Peruvian Chicken Bowl (Peru), Racine Unified School District
Reminder: School Breakfast Challenge: Register Today!
Register to participate in the Wisconsin School Breakfast Challenge and complete school breakfast activities from our Big Cheese Scorecard to earn points towards cash prizes, February 1-24, 2023! The Wisconsin School Breakfast Challenge is a state-wide competition to increase participation in the School Breakfast Program. Schools are encouraged to engage with students, school staff, parents and community members to promote the benefits of eating a healthy breakfast at school. A School Breakfast Challenge Toolkit offers resources, rules, inspiration, strategies and fun! The SY 22/23 Challenge is made possible by our SNT partners No Kid Hungry, Hunger Task Force and SNA of Wisconsin.
Reminder: Administrative Review (AR) & You Workshop
Do you have an AR this winter or spring? If so, consider joining SNT staff for the AR & You workshop! This training is designed to provide the tools and information you need for a successful AR. Join us virtually on Thursday, January 26 from 2-4 pm. This is the same information presented during the September and October AR & You Workshops.
FY 2022 National School Lunch Program (NSLP) Equipment Assistance Grant Application Deadline Approaching
All Authorized Representatives and Food Service Directors received applications through individualized Qualtrics links on December 21, 2022. These links will be re-sent later this week to SFAs that have not submitted an application. Applications are due on February 6, 2023, at 5:00 PM CST. SFAs should read the FY 2022 Equipment Assistance Grant Announcement Letter prior to completing their application. Each SFA can request a maximum of $50,000 for up to two pieces of equipment.
As a reminder, a PI-6208 NSLP Equipment Specification form must be completed for each piece of equipment requested. If requesting two pieces of equipment (even if both pieces are the same), two PI-6208 forms must be uploaded into your application under questions #23 and #38.
The "Bid Due Date" on the PI-6208 may be left blank at this time as Part 1 of the application process does not include going out for bid. SFAs selected to move forward with Part 2 of the process will have their Equipment Specification/s reviewed and approved by our procurement team and will be given a bid due date to use at that time.
Additional resources are available on the Equipment Grant Webpage. Questions related to this grant can be directed to the Equipment Grant Team at DPIEquipGnt@dpi.wi.gov
Reminder: ServSafe Course and Exam
Registration is open for a ServSafe ® class in Sheboygan Falls, WI on Friday, February 17! Please see the ServSafe® Menu on the SNT's Training webpage to register. Registration will be on a first come, first served basis.
Please note that the cost of the exam is $50 plus an additional $50-70 if you need to purchase the 7th Edition ServSafe® Manager coursebook.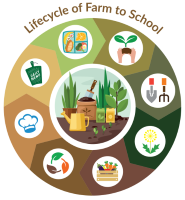 Join us to learn about composting at your school! Do you have tons of food scraps that end up in the garbage? Could your school garden use some better soil? Do you want to start composting but just don't know where to begin? If "yes," this workshop is for you!
 
The free Composting Workshop will be held virtually on Thursday, March 2, 2023 from 1:30-4:00 PM During this workshop you will learn about the available compost systems, the ideal conditions for composting, and how to establish partnerships in your school. Mark your calendars and Register for the Compost Workshop Here!!
Reminder: 2023 Whipping Up Wellness, Wisconsin Student Chef Competition
Wisconsin Team Nutrition is pleased to announce the eleventh annual Whipping Up Wellness, Wisconsin Student Chef Competition. Teams of middle and high school students are invited to develop a nutritious, student-friendly recipe featuring local foods that can be incorporated easily into the school food service program. The competition consists of a Recipe Contest and a Cooking Competition. Teams must submit a team application and an electronic photo of their dish to the Department of Public Instruction by March 16, 2023.
The top five finalists from the Recipe Contest will be invited to prepare their recipe during the Cooking Competition at Madison Area Technical College – Truax Campus on Thursday, May 18, 2023. Dishes will be judged on taste, student appeal, presentation, and creativity.
More information on the competition, including a link to the application, can be found on the Whipping up Wellness webpage. Happy cooking!
---
Reminder: Wisconsin Chili Lunch
February 23, 2023 is the Wisconsin Chili Lunch! Participation is simple: Prepare and serve your Wisconsin Chili Lunch using as many locally grown ingredients as possible, and customize it to meet your needs! Use a recipe listed on the webpage above, or cook up your own favorite chili recipe. Register today to get the Chili Lunch Guide, supply chain help, more recipes and get connected to other farm to institution efforts in the state.
----------------------------------------------------------
Wisconsin Department of Public Instruction
Jill K. Underly, PhD, State Superintendent
125 S Webster Street
Madison, WI 53703
(608) 266-3390 • (800) 441-4563