Tuesday, January 31, 2023
Announcements from the WI DPI School Nutrition Team (SNT)
---
Updates from the U.S. Department of Agriculture (USDA)
New and Updated!

Discover MyPlate: Nutrition Education for Kindergarten
Discover MyPlate: Nutrition Education for Kindergarten materials are now available from USDA's Team Nutrition initiative! Please share with kindergarten teachers! These fun resources foster the development of healthy food choices and physically active lifestyles during a critical developmental and learning period for children—kindergarten. Now with more recipes and food cards for emergent readers!
---
And Justice For All

Posters: Update
We are still awaiting updated And Justice For all Posters from USDA that include the 2022 Nondiscrimination Statement. Until the updated posters are printed and distributed, USDA has stated that schools should continue to post the 2019 And Justice for All poster. The School Nutrition Team does not have any of these left to mail, therefore, if you need a poster, you may print the 2019 Version of the And Justice for All Poster. It must be printed on 11" x 17" paper. The minimum text size is 14-point.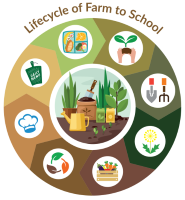 Join us to learn about composting at your school! Do you have tons of food scraps that end up in the garbage? Could your school garden use some better soil? Do you want to start composting but just don't know where to begin? If "yes," this workshop is for you!
The free Composting Workshop will be held virtually on Thursday, March 2, 2023 from 1:30-4:00 PM. During this workshop you will learn about the available compost systems, the ideal conditions for composting, and how to establish partnerships in your school. Mark your calendars and Register for the Composting Workshop Here!
---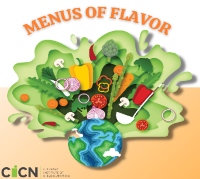 The Culinary Institute of Child Nutrition recently released three new hands-on culinary trainings called Menus of Flavor. Originally developed by the John C. Stalker Institute of Food and Nutrition, Menus of Flavor is intended to teach foundational culinary skills to school nutrition professionals with a focus on flavor profiles of global cuisines. Join us for an introduction to flavor profiles of the Mediterranean, East and Southeast Asia, and Latin America and to discuss the impact of hands-on culinary skills training.
SNA Key Area(s): 1 – Nutrition, 2 – Operations
USDA Professional Standards Code(s): 1100 – Menu Planning, 2100 – Food Production

Learning Objective(s):
Identify ingredients that contribute to the Mediterranean flavor profile.

Identify ingredients that contribute to the East and Southeast Asian flavor profile.

Identify ingredients that contribute to the Latin American flavor profile

.
Chef Ann Foundation: Announcing the Inaugural Cohort of the Fellowship Program!
The Chef Ann Foundation is excited to share that we've launched the first cohort of our Healthy School Food Pathway Fellowship Program, designed to develop the next generation of school food leaders nationwide! Thanks to funding from the program's founding partners, Whole Kids Foundation and the State of California, 24 school food leaders from across the nation were selected to join the Fellowship program.
Over the course of 12 months, the Fellows will have the opportunity to grow the skills, knowledge, abilities, and vision necessary to operate a successful self-run, scratch-cook meal program that serves fresh and healthy meals to students. Fellows will be ready to not only lead their own teams, but also cultivate transformative change within the school food system.
We've created these Messages and Graphics - please feel free to share with your network! For additional information about the Healthy School Food Pathway Fellowship program, check out our Fellowship Webpage.
----------------------------------------------------------
Wisconsin Department of Public Instruction
Jill K. Underly, PhD, State Superintendent
125 S Webster Street
Madison, WI 53703
(608) 266-3390 • (800) 441-4563