Thursday, October 6, 2022
Announcements from the WI DPI School Nutrition Team (SNT)
Happy Farm to School Month!
---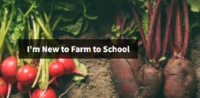 Are you new to farm to school? Would you like to get your program up and running at your school? Let the USDA Farm to School Program team help you.
The "I'm New to Farm to School" webpage has been developed by the USDA Farm to School Program as a one stop shop of information and resources to help you to start your farm to school project journey. On this webpage you will find information about the history of the Farm to School Program, the Farm to School Grant, the Farm to School Census, various technical assistance and trainings, and more!
USDA's The Dirt Monthly Publication
The Dirt is a monthly publication of USDA's Food and Nutrition Service, Farm to School Program, providing news and resources for former, current, and future Farm to School grantees, and for all readers who want to know what is new and exciting in farm to school.
Hungry for more information about the USDA Farm to School Program?
Please go to the USDA's Farm to School Program Website and discover more about our Farm to School Grant Program, Farm to School Census, and Technical Assistance and Training.
Now Available! Updated Whole Grain Resource for the National School Lunch and School Breakfast Programs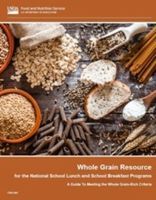 The Whole Grain Resource for The National School Lunch and School Breakfast Programs has been revised to reflect the final rule Child Nutrition Programs: Transitional Standards for Milk, Whole Grains, and Sodium. The rule states that at least 80% of weekly grains must be whole grain-rich, and the remaining grains must be enriched.
This resource includes important and comprehensive information on how to serve whole grain-rich foods in school meals. It provides step by step guidance as well as practical examples for identifying and documenting whole grain-rich foods.
The updated Whole Grain Resource for The National School Lunch and School Breakfast Programs is available to view and download on the Team Nutrition website. Printed copies of the resource will be available at a later date.
Team Nutrition Updates
Team Nutrition Schools are part of an important network of over 52,000 schools committed to providing healthy school meals and nutrition environments for students. The Team Nutrition Network now shows the number of Team Nutrition Schools in each State, using a friendly Interactive Map. Signing up to become a Team Nutrition School is free and easy, and any school participating in the National School Lunch Program is eligible to enroll.
During National School Lunch Week, the Team Nutrition School Network will highlight school lunch trays from 10 Team Nutrition Schools. These trays will be featured on the Network starting on October 11. In March 2023, Team Nutrition plans to highlight additional trays from Team Nutrition Schools. Team Nutrition Schools are encouraged to share their diverse and popular school meal menus and tray images with us by emailing TeamNutrition@USDA.gov.
In addition, Team Nutrition will highlight Team Nutrition Schools and their taste-testing events during the Team Nutrition Meal Talk webinar on Wednesday, October 12 at 3pm Eastern Time. Team Nutrition staff and guest speakers from the Pennridge School District in Pennsylvania and Kern County Superintendent of Schools in California will share tools, tips, strategies, success stories, and best practices related to hosting taste-test events with elementary and secondary school students. Attendees will hear about new ideas and tools for conducting taste-test events as well as strategies for incorporating taste-test results into menu planning.
Team Nutrition Schools have access to free exclusive printed materials. Including:
New schools that join the Network after today will receive the ordering instructions to request these free materials no later than one week after their enrollment has been approved. Schools that participate in USDA Child Nutrition Programs can order Team Nutrition materials through the Online Order Form.
We are pleased to share a new resource for State agencies and Program operators who are operating the Summer Food Service Program (SFSP) and Seamless Summer Option (SSO) during unanticipated school closures (USC) in School Year (SY) 2022-23. This chart compares what could be done utilizing the COVID-19 Nationwide waivers versus the different options that are available for SY 22-23 operations.
---
Site-based Claiming Resources
As we return to the "regular" National School Lunch (NSLP) and School Breakfast (SBP) Programs, we also return to site-based claiming procedures, which are different from the Seamless Summer Option (SSO) claiming procedures you may have followed during the 2021-22 school year. The DPI School Nutrition Team strongly encourages you to watch the entire Submitting Site-Based Reimbursement Claims webcast before entering your first NSLP claim for the 2022-23 school year. The Claiming webpage has links to resources including online the Online Claims Manual for NSLP, SBP, and ASP (site-based) which may be printed and followed step-by-step, an Average Daily Attendance (ADA) Calculation Tool, and monthly edit check forms.
Lifecycle of Farm to School - Composting Workshop!
Join us for an interactive afternoon to learn about composting at your school! Do you have tons of food scraps that end up in the garbage? Could your school garden use some better soil? Do you want to start composting but just don't know where to begin? If "yes," this workshop is for you! Gain hands-on experience composting together and learn about the available compost systems, the ideal conditions for composting, and how to establish partnerships in your school.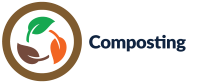 When: Wednesday, October 26, 2022
Where: CESA 10, Chippewa Falls
Time: 1 - 4:00 PM
Cost: FREE!
Advanced registration is required! Please Register Here!
---
2022 Great Lakes Great Apple Crunch
Registration for the 2022 Great Lakes Great Apple Crunch is now open!
What is the Crunch? Celebrate National Farm to School Month by collectively purchasing and crunching into locally grown apples at noon on Thursday, October 13, 2022! Everyone is welcome to participate (K-12 schools, early care and education sites, farms, local businesses, and households).
Why Register? Help us reach the goal of 1.2 MILLION crunches this year in the Midwest! After you register, you will receive access to Crunch resources to help you plan a fun and successful Crunch! Registrants will also receive a newsletter leading up to Crunch Day with resource highlights, apple activity inspirations, Crunch tools, and more.
New CDC Resource Helps School Districts and Schools Survey Wellness Policies
The Wellness Policy in Action Tool (WPAT) is a new resource designed to help schools meet USDA's Triennial Assessment requirements, including measuring how well schools are aligning their school nutrition and physical activity practices with their district's Local School Wellness Policy.
The WPAT is an online platform that addresses 31 key topics and uses questions from the WellSAT 3.0 and the School Health Index. Scores and recommendations for next steps will help users take the best action for creating healthier schools.
CDC Healthy Schools developed the WPAT in collaboration with the UCONN Rudd Center for Food Policy and Health.
Visit USDA's Team Nutrition website for more Tools and Resources on local school wellness policy implementation.
----------------------------------------------------------
Wisconsin Department of Public Instruction
Jill K. Underly, PhD, State Superintendent
125 S Webster Street
Madison, WI 53703
(608) 266-3390 • (800) 441-4563