Wednesday, November 2, 2022
Announcements from the WI DPI School Nutrition Team (SNT)
---

New updates to the Food Buying Guide for Child Nutrition Programs Interactive Web-based Tool and FBG Interactive Mobile App! 
The following new food yields are available: frozen cherries, frozen cauliflower rice, frozen diced carrots, frozen legumes (black-eyed peas, navy beans, and garbanzo beans), mini sweet peppers, and pearled farro. Additionally, a new feature is now available on the Food Buying Guide (FBG) for Child Nutrition Programs Interactive Web-based Tool and FBG Interactive Mobile App. Team Nutrition is excited to announce that this new feature allows a Favorites List and Compare Items List to be exported as an Excel file for ease of use.

Team Nutrition appreciates receiving your comments on the FBG and works continuously to enhance the user experience. Explore the Food Buying Guide today!
USDA Farm to School Grants
The USDA Farm to School Program helps schools incorporate local foods into meal programs and supports local food and agriculture education through grants, research, and technical assistance. Less plate waste may be a benefit for schools implementing farm to school. According to the 2019 School Nutrition and Meal Cost Study (SNMCS), approximately 21 percent of calories available in school lunches were wasted – 31 percent of vegetables and 41 percent of milk were discarded from lunch trays. Evidence from the SNMCS indicates participation in a farm to school program was associated with a lower percentage of waste for calories in the School Breakfast Program, and higher participation in the National School Lunch Program.
Farm to school can encompass serving local foods in meals, growing school gardens, and composting food scraps. A USDA Farm to School Grant is a great way for schools to get started. Boulder Valley School District in Colorado used part of their 2019 USDA Farm to School Grant to address food waste by creating a District-wide Composting Program and tracking food waste in kitchens and cafeterias.
Applications are being accepted now for USDA Farm to School Grants, and USDA expects to award up to $12 million in competitive grants to eligible entities in Fiscal Year 2023. Learn more about the FY23 Farm to School Grants. Complete applications must be submitted on Grants.gov by 11:59 p.m. ET on Friday January 6, 2023.
Learn about other Funding Opportunities that support food loss and waste reduction, and sign up for the USDA Food Loss and Waste Newsletter to receive updates. Stay up to date on the latest Farm to School News by Subscribing to the monthly Farm to School e-Letter, The Dirt.
Visit USDA's Food Loss and Waste website for more information about USDA's Food Loss and Waste efforts.
---
Hiring: Public Instruction Supervisor
The School Nutrition Team is hiring a full-time Public Instruction Supervisor. Anyone in the public can apply. The deadline to apply is Friday, November 18, 2022. Please forward to anyone you think might be interested. Thank you!
Farm to School Month Celebration!
Thanks to all the SFAs that participated in the
2022 Great Lakes Apple Crunch
and celebrated October as Farm to School month! The School Nutrition Team and Assistant State Superintendent, Tricia Collins crunched too! See the
Video of our Crunch
. Check out the pictures that AmeriCorps Farm to School members snapped of the crunch at their schools!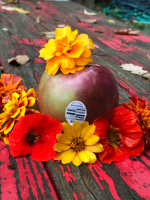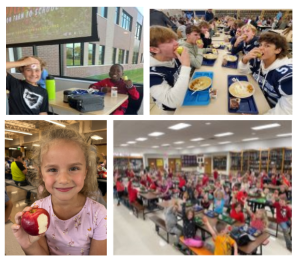 ​


Feature Your Program on the Marketing your Program webpage!
 

​
Did your school do anything to highlight National School Lunch Week in October? If so, we would love to feature you on our Marketing Your Program webpage! Email your stories and photos to dpifns@dpi.wi.gov. #WISchoolMealsRock

​
---

Madison Area Master Gardeners Association (MAMGA) Grants
Applications for gardening and horticulture grants from the Madison Area Master Gardener Association (MAMGA) are being accepted for 2023. The grant application period begins November 1, 2022 and closes March 1, 2023
The purpose of these grants is to help support school garden and public or nonprofit community gardening projects located within the Dane County area. Grants cannot be used to benefit individual home gardens or private businesses. Individual grant applications may request up to $500. Grant funds may be used for seeds, plants, fertilizer, mulch, tools, garden infrastructure, and information and education of students and the community; funds may not be used for paid labor.
The Application Form can be found on the MAMGA webpage. Applications need to be returned to Mary Collet at mpcollet@sbcglobal.net.
Please visit the UW Extension's Master Gardener Training and Certification Program for information about the Master Gardener Program.
----------------------------------------------------------
Wisconsin Department of Public Instruction
Jill K. Underly, PhD, State Superintendent
125 S Webster Street
Madison, WI 53703
(608) 266-3390 • (800) 441-4563